"Shanghai Knights" (2003). (Official Site).
Starring Jackie Chan, Owen Wilson, Fann Wong, Aidan Gillen, Donnie Yen, Thomas Fisher.
Click here for my movie review. (coming soon)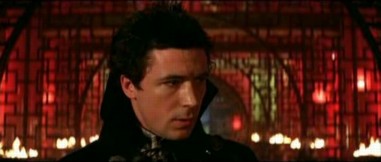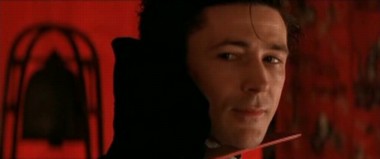 "Gillen slid[es] neatly into the sadistic fop role most recently the preserve of Gary Oldman..." – Los Angeles Times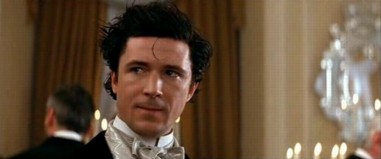 Director David Dobkin, on why he cast Aidan in Shanghai Knights: "Because of his attitude and his focus. And that he was willing to take direction. I think there are a lot of British stars who are such great actors and who think they can't completely give in to making Hollywood films—you meet them and there's a reservation. But Aidan was all for going for it and giving it his all. He knew what kind of movie it was. It's Saturday matinée entertainment. He brought everything from his stage work as a thespian to the role." – BBC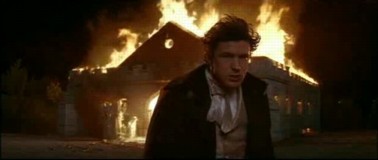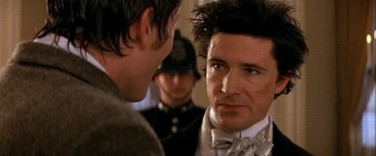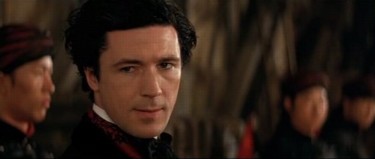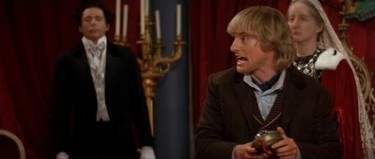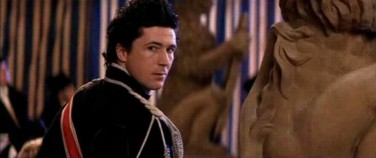 That shot above with Owen Wilson doesn't actually have Aidan in it, but there is a wax figure on the left that is based on Aidan's character in the movie!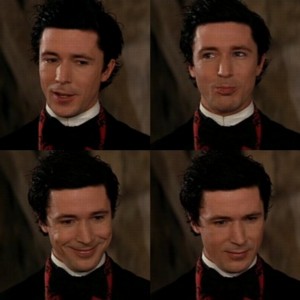 "...the bad guys aren't terribly menacing until Rathbone picks up a sword toward the end." – New York Post

"In terms of time, and of scale, the Big Ben sequence, which features a showdown sword duel between Wang [Jackie Chan] and Rathbone [Aidan Gillen], is the largest and most involved in the film...
"Aidan Gillen...trained extensively with expert swordsman Roman Spacil to prepare for the contest, which Jackie designed to combine Asian-style samurai moves with English fencing techniques.
"'This type of physical action role is unusual for me, and to have to do it opposite Jackie Chan is motivating and frightening,' says Gillen. 'Fighting on narrow walkways forty feet above a concrete floor certainly adds to the drama, as well as my concern for survival.'" – Shanghai Knights PressKit (PDF)